Conor McGregor has strangely expressed his interest in fighting Diego Sanchez, following the veteran's disqualification win at UFC Rio Rancho.
The former UFC two-division champion is currently awaiting his next assignment after a spectacular 40-second knockout of Donald Cerrone last month on his official return to the Octagon from a 15-month hiatus.
According to UFC president Dana White, 'The Notorious' one will be fighting the winner of the lightweight title fight featuring his biggest nemesis in Khabib Nurmagomedov and number one contender, Tony Ferguson.
But on Saturday night, while closely watching the UFC Fight Night 167, McGregor declared a war against the former King of the Cage welterweight champion.
This after the 38-year old Sanchez secured the win in the co-main event contest after his opponent, Michael Perreira, who dominated the first two rounds, was disqualified due to illegal knee.
https://twitter.com/btsportufc/status/1229043748304277504
Dublin Headliner
Shortly after the win, McGregor called out the 18-year MMA veteran in a deleted tweet before reposting a fan's mock up announcement, indicating the welterweight clash will headline UFC Dublin this summer.
See it below: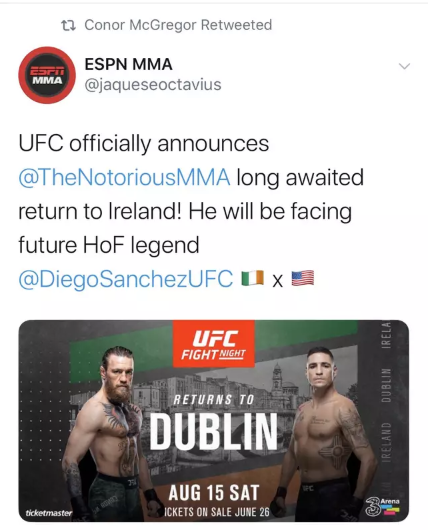 McGregor and Sanchez had a heated exchange on Twitter in 2013, with the Irish star claiming he was booked to fight the UFC veteran on home soil.
@TheNotoriousMMA @danawhite I'm up next in Dallas Texas in March let me know if you want to get #KTFO ? Your all talk #challengeisout

— Diego Sanchez UFC (@DiegoSanchezUFC) November 27, 2013
@TheNotoriousMMA @danawhite what do you say Dana ? Can I smash this piece of trash ??? I'll do it just say the word BOSS 😉

— Diego Sanchez UFC (@DiegoSanchezUFC) November 28, 2013
Check out the UFC Rio Rancho full results (via UFC.com)
Main Card
JAN BLACHOWICZ DEF. COREY ANDERSON BY KO AT 3:08 IN ROUND 1
DIEGO SANCHEZ DEF. MICHEL PEREIRA BY DISQUALIFICATION (ILLEGAL KNEE) AT 3:09 IN ROUND 3
MONTANA DE LA ROSA (30-27 X 3) DEF. MARA ROMERO BORELLA BY UNANIMOUS DECISION
BROK WEAVER DEF. KAZULA VARGAS BY DISQUALIFICATION (ILLEGAL KNEE) AT 4:02 IN ROUND 1
RAY BORG (30-27 X 2, 30-25) DEF. ROGERIO BONTORIN BY UNANIMOUS DECISION
LANDO VANNATA (30-27 X 3) DEF. YANCY MEDEIROS BY UNANIMOUS DECISION
Preliminary Card
DANIEL RODRIGUEZ DEF. TIM MEANS BY STANDING GUILLOTINE AT 3:37 IN ROUND 2
JOHN DODSON DEF. NATHANIEL WOOD BY TKO AT 0:16 IN ROUND 3
SCOTT HOLTZMAN (30-27, 29-28 X 2) DEF. JIM MILLER BY UNANIMOUS DECISION
DEVIN CLARK (30-27, 30-26 X 2) DEF. DEQUAN TOWNSEND BY UNANIMOUS DECISION
MERAB DVALISHVILI (30-27, 30-25, 29-28) DEF. CASEY KENNEY BY UNANIMOUS DECISION
MACY CHIASSON (30-26 X 3) DEF. SHANNA YOUNG BY UNANIMOUS DECISION
RAULIAN PAIVA DEF. MARK DE LA ROSA BY KO AT 4:42 IN ROUND 2
RT b/c it's fight day❗️#UFCRioRancho – TONIGHT – LIVE on ESPN+ pic.twitter.com/9f9ONDAprv

— UFC (@ufc) February 15, 2020
(Featured Image Source: Instagram/ Diego Sanchez and Conor McGregor)