Mixed martial arts star dubbed 'The Egyptian Hulk' suffered one of the fastest and most devastating knockouts this year.
Back in July, 'The Egyptian Hulk,' Mahmoud Hassan in real life, tussled with Chi Lewis-Perry in an MMA fight in Abu Dhabi.
The heavyweight  pair fought for the UAE Warriors Championship.
Given Hassan's size and power, it looked like he would last long against Lewis-Perry that night.
But the American Kickboxing Academy standout needed only eight seconds to secure a very comfortable win.
Lewis-Perry caught him with a vicious right hand that sent him straight down the canvas.
The loss was doubly painful for 'The Egyptian Hulk' as he sustained four fractured bones from the devastating knockout.
Watch the brutal knockout in the video below courtesy of MMA TV:
Injured
'The Egyptian Hulk's record ended with 1-7 after the devastating loss, which steered MMA fans to question why he was even fighting for the title in the first place.
But the more concerning part was the injury Hassan sustained from the bout.
According to Lewis-Perry's manager, Sid Deans, Hassad needed to undergo substantial treatment because of the injuries.
The MMA manager released images of The Egyptian Hulk in the hospital following the title bout.
Check out the photos below: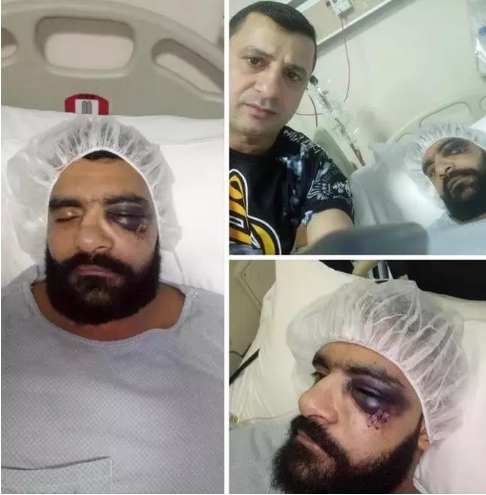 Meanwhile, Lewis-Perry has improved to 9-0 win-loss record and was happy to earn big fight paychecks after turning down an offer from the UFC.
He is also known for his involvement in an altercation with Jon Jones in 2017.
In a previous interview with Body Lock MMA, Lewis-Perry provided details about this incident.
"We went to the arena to do this press conference like an hour later. I was backstage and I bumped into Alistair Overeem who I've known for many years."
"Originally, I was with the group but DC and them carried on walking, they didn't see me stop."
"So I'm talking with Alistair for like 10 minutes, catching up with him because I haven't seen him for a while.
"When I turn to leave, here comes Jon and his brothers and like an entourage, it was like five or six people."
"And they tried to surround me like they were going to f-ng jump me."
"I just squared up to Jon and was like 'what are you gonna do?' His brother started getting involved, jumping up and down like he was going to do something."
https://www.instagram.com/p/B05_FrgA6rU/
(Featured Image Source: Instagram/ Hellboy Hassan AKA The Egyptian Hulk)